Customer service representatives usually have a really hard time when it comes to getting up and moving around the office while on the phone with a client. Because of the nature of these kinds of jobs, in the past, they were confined to a desk with little to no mobility. When Wireless Headsets For Customer Service were invented it gave the customer service industry a new lease on life.
Wireless Headsets For Customer Service
Jabra Engage 65 mono
The new Jabra Engage 65 mono is the latest addition to the Jabra Engage series wireless headset line.  It's both PC and desk-top phone compatible.  Microsoft Skype for Business Certified.  Battery now allows up to 13 hours of talk time and a wireless distance of 490 feet.  Which is virtually unheard of before in any wireless model.  With a push of a button, you can switch seamlessly between PC soft-phone (via USB connection) and a desk-phone.  The new Jabra Engage series also allows 3 times more users using the same headset in the same office than any previous models. 
Weighing only 57 grams, it's one of the lightest wireless headset on the market. Jabra Engage now includes an integrated busy light in the headset to alert the other workers around when you're on the call, a feature no other wireless headsets have. This is by far my favorite wireless headset for a call center.
Plantronics Savi 8210
The Plantronics Savi 8210 is the best single eared wireless headset on the market. It has triple connectivity, desk phone, computer, and Bluetooth device. You get almost 600ft line of sight. wireless range, and up to 13 hours of talk time. It has a great noise-canceling microphone for your customer. The best part of this headset is having an open ear just in case you have to speak with people. Great headset.
Plantronics Savi 8220
The Plantronics Savi 8220 is an over-the-head binaural type wireless headset and has easy call management through the headset itself. One of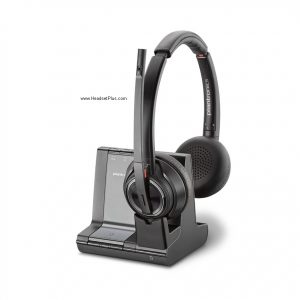 my favorite wireless headset because it covers both ears that allows better focus of my work, without the interruption of noise around me. The 500-foot operating range is still very impressive and the active noise canceling technology blocks unwanted noise in a noisy office so you can focus on your work and phone calls. Three-way connectivity sees connection through both wireless and Bluetooth utilized to create a seamless link if needed. Conference calling and easy transferring of calls can occur with up to three Savi 8220 connected together. The 13 hours of talk time is a great addition to the overall package and provides a good advantage to customer service representatives who usually have to be on-call for a large part of the day.